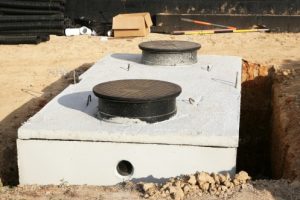 Approximately one-fourth of American homes use a septic tank to get rid of wastewater. It is a clean and cost-effective method, but it does come with some required maintenance. A broken septic tank is never fun, so we have compiled these tips for caring for your septic system better:
High-Efficiency Appliances – Using water saving appliances like high-efficiency washers and faucets, and low flow toilets can help decrease the amount of water that goes into your septic system. This prevents it from overloading.
You can also save water by ensuring that all leaks or drips are repaired as soon as possible.
Be Careful What You Flush – One of the leading causes of a broken septic tank is too much solid waste entering the septic system. You can prevent this by only flushing toilet paper. Have a garbage disposal installed that is designed for septic systems to prevent solid waste entering the system through your kitchen sink drain.
Get Regular Inspections – Septic tanks need to be pumped on a regular basis. When it needs to be pumped depends on a variety of factors, so it's important to get your tank inspected once about every three years. It's also good to keep detailed records, listing the age, size, and capacity of your tank. Then, keep a record of each inspection. This will save you from any nasty surprises because it gives you a good idea of when you need your tank pumped.
When you need septic tank pumping in Orlando, or anywhere in Lake and Orange counties, FL, rely on the team at American Septic Inc. Contact our team today to schedule a septic tank inspection.